Service
Online shopping cart system is the most cost effective way for internet marketing. It helps to bring a global value to products and services. It helps to reach millions of potential customers through the virtual store front. Stop to invest huge amounts on developing the company's infrastructure and start to invest a little for developing an online shopping cart. We are ready to serve you with complete online shopping cart solutions.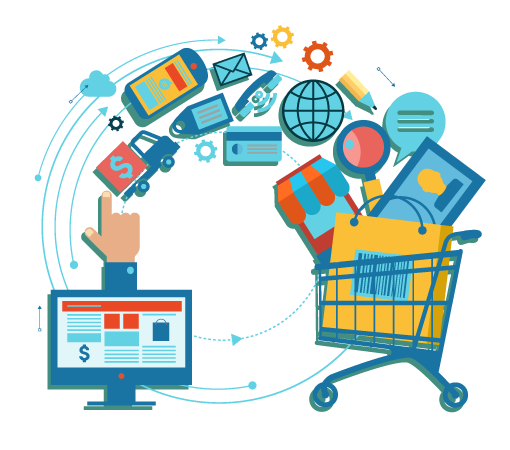 Basic Functions
Once the customer has made a selection, the product will appear in the shopping cart, a kind of intermediate page prior to final checkout. The cart page needs to clearly show what products have been ordered as well as the quantity and a subtotal. A good cart page will allow the shopper to easily remove a product from the cart or change quantity.
Carts allow two paths from the cart:
• Continue to Shop,
• Complete Order, Checkout, Finalize Order
Shipping Calculations
Carts allow customers to select shipping preferences in the shopping cart. Carts allow to add a handling charge on a product by product basis to provide for special shipping requirements. Additional shipping options, such as allowing the merchant to specify the base shipping rate in the product database, rather than having it calculated when the customer places it in the cart.
Tax Calculation
Tax calculation used to be straightforward. carts only allow sales tax calculation by states and country. So a merchant might need to charge different sales tax rates depending upon the residence of the customer.
E-mail Confirmation
Another basic function of shopping carts is to send e-mail confirmation to the customer as soon as an order has been completed on the site.
Secure Transactions
When it's time to check out, customer wants to complete the transaction securely and efficiently.A payment gateway is a secure, Internet interface with a payment processor, the company that makes sure that transaction is okay. The payment gateway has two functions:
• To transmit the credit card information securely to the payment processor
• To transmit the approval code and any confirmation details back to the shopping cart program.
A payment gateway provides secure communications between the website and the credit card processor.
Standard Shopping Cart features :
Easy to reach target customers
Can provide better service to the existing customer
Content Management System
Complete control on merchant account
Inventory management and shipping
Helps to manage products, taxes, shipping details, preferences etc.
Multiple shipping options
Online payment gateway integration with secured payment gateway solutions
Search management, Product category management, Order management and order tracking
Credit card payment system
shopping Cart migration service
Pinnacle Cart Customization
CS-Cart Customization
oS Commerce Customization
Meganto Customization
X-Cart Customization
Zen Cart Customization